Investment money was there, but more was needed to expand a local pizzeria.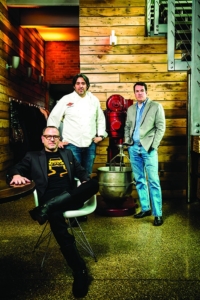 A common concern among businesses is the fact that securing investment capital to expand operations can be hard to come by, especially following the 2008 global financial crisis. Luciano Del Signore, owner and chef at Bacco Ristorante and Pizzeria Biga, both in Southfield, and another Biga in Royal Oak, had a different problem.
"I had access to capital, but in order to expand, what I really needed was working partners who had skill sets that would complement my cooking," Del Signore says. "You can only do so many things well. I can take on creative design, and I can do the books, but I can't do those things all of the time and still cook."
Enter Michael Chetcuti, CEO of Quality Metalcraft Inc. in Livonia, a multimillion-dollar business that produces prototype and low-volume automotive parts for OEMs such as Cadillac and Chevrolet. With Chetcuti's background in industrial design, he was a natural to fashion a chain of new Biga eateries; the next pizzeria will be ready to arrive by September, in Ann Arbor. More operations will spring up in the region, along with growth planned outside the state.
"When we first opened the Royal Oak Biga, few people knew we were here even though we had this amazing space inside an old industrial building that backed up to an active railroad track," says Chetcuti, a Biga partner. "So we covered the building with thousands of little lights and flipped the switch. The difference in traffic levels was like night and day."

29410 Northwestern Hwy., Southfield, Michigan
248.356.6600
HOURS:
Lunch Tuesday- Friday 11:30-4
Dinner Tuesday-Thursday 4-10
Dinner Friday 4-11
Dinner Saturday 5-11 | Closed Sunday & Monday | Directions