By Dorothy Hernandez, Foodable Contributor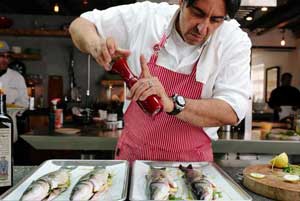 Detroit is not lacking in classic Italian cuisine. There's Roma Café, dishing up traditional Italian since the late 19th century in the Motor City, and Mario's, an old-school Italian joint right down to the vegetable and relish tray served upon sitting down at the table, just to name a couple of institutions. But Luciano DelSignore has taken the cuisine to new heights with his much-lauded white-tablecloth restaurant Bacco and his wood-fired pizza concept Bigalora. When he first opened Bacco in suburban Detroit more than 10 years ago, the culinary scene was vastly different from the current restaurant boom. Then came the recession, which forced many restaurants to close.
These days, Detroit is seeing highly anticipated eateries opening their doors on a regular basis. But through it all, Bacco has endured, cultivating a loyal clientele who made it a destination for business meetings and special occasions alike. Its well-executed and imaginative Italian food has been recognized with several awards, including "Restaurant of the Year" honors from the Detroit Free Press, Top Table from Gourmet magazine, and "America's Top Restaurant" from Zagat, to name a few. A former James Beard semifinalist, DelSignore is one of the area's most celebrated chefs who is also a successful restaurateur.
How It All Started
It all began in DelSignore's family restaurant, Fonte d'Amore in Livonia, MI. Like many chefs, he started as a busboy and dishwasher, then worked his way up the food chain. He started waiting tables before making his way into the kitchen at age 15. As a teen, DelSignore, a first-generation Italian American with strong ties to the Italian region of Abruzzo (east of Rome), was developing his own signature dishes that were simple yet sophisticated. This type of cooking would eventually typify his culinary style. During these early years of cooking classic, true Italian fare, he honed his craft.

29410 Northwestern Hwy., Southfield, Michigan
248.356.6600
HOURS:
Lunch Tuesday- Friday 11:30-4
Dinner Tuesday-Thursday 4-10
Dinner Friday 4-11
Dinner Saturday 5-11 | Closed Sunday & Monday | Directions