The Metropolitan sat with chef Luciano DelSignore at Bigalora 'Wood Fired Cucina' to discuss ancient Italian bread making, family meatballs and eating naturally.
By Anthony Brancaleone for The Metropolitan
___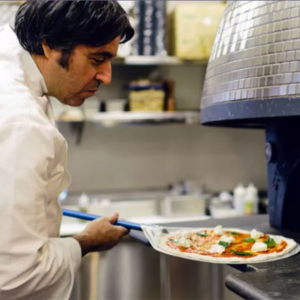 Chef Luciano has been making food since age 14. He began under the guidance of his Italian family, who moved to the Detroit area from Abruzzo, Italy, an area just east of Rome. Luciano was charged with the responsibility of operating his family's restaurant, Fonte d'Amore, in Livonia, before he opened his own, Bacco Ristorante, in Southfield, which has become one of the regions highly acclaimed restaurants. Chef Luciano has been nominated for the James Beard Award three times and, let's just get this out of the way, looks like Al Pacino.
With locations in Ann Arbor and Southfield, we chose Bigalora Royal Oak for our experience. Upon entering, we discovered artwork by Detroit artist Camilo Pardo in the foyer and the room's streamlined, contemporary bar area. Aggressive, racecar oriented works are not what first come to mind when thinking of natural, proprietary pizza. But, it quickly all made sense. Who better than the Italians to combine good food, wine, art and racing?
We were seated at table with co-owners Michael Chetcuti and Kyle Evans, who quickly ordered wine. Metropolitan columnist, Jeanette Frost, joined us. With Chef Luciano en route we covered a few preliminaries.
"At Bigalora we stress a fun, energetic, pop-Italian atmosphere with an emphasis on clean, organic, fresh, delicious food," began Chetcuti. "Our pizza is really unlike anything you'll find in the United States, and our menu is very diverse and includes house-made pastas, salads, small plates, and gelato. We also have a very progressive craft beer, wine, and cocktail program."
"All of your ingredients are organic?" I asked. "Yes. We rigorously seek out only the finest ingredients, with a strong emphasis on local whenever possible," replied Chetcuti.
"We love the Camilo artwork," said Ms. Frost. "How did you come by it?" "Camilo and I have been friends for a long time," replied Chetcuti. "And, we really feel it works well in this room."
The next 15 minutes were filled with the four of us discovering our six degrees of separation, and getting an idea of the business philosophy behind Bigalora: A refined, casual dining experience, offering clean food, at a competitive price.

29410 Northwestern Hwy., Southfield, Michigan
248.356.6600
HOURS:
Lunch Tuesday- Friday 11:30-4
Dinner Tuesday-Thursday 4-10
Dinner Friday 4-11
Dinner Saturday 5-11 | Closed Sunday & Monday | Directions