By Victoria Trudeau for Eater Detroit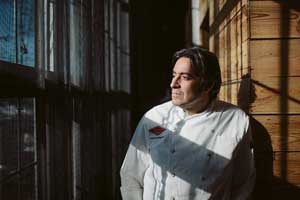 Chef Luciano DelSignore is our Pizza Week Lifer interview, as he has been making pizzas since childhood. Chef Luciano is not typically regarded as a pizza chef; he is most well known for his fine Italian restaurant Bacco, but he also owns Bigalora Wood Fired Cucina, with locations in Royal Oak, Southfield, and Ann Arbor, and he has enormous appreciation for a good pie. Bigalora (formerly Pizzeria Biga) is known for traditional thin crust pizza, made without chemical leaveners. They instead use Biga, a natural yeast starter, which makes their crust so distinctive in the region. Eater spoke to Chef Luciano about his experience, his passion, his pizza preferences, and a few of his pizza making secrets.
Do you remember the first pizza you ever made?
The actual very first I don't remember, but I was probably making pizzas as early as 8. My dad had a pizzeria and a pizzeria diner, my parents were Italian immigrants, and I was 8 when he had a place in Livonia, called The Italian Hut on Plymouth Road. I was baking pizzas very early on.
What made you decide to be a pizza chef?
Pizza for me is relatively new, I'm a fine dining chef, but I decided to get into the pizza business because I couldn't find a great pizza. I developed Biga under that premise; I wanted to create the best tasting pizza, and I accidentally found that it was something really healthy that is light and easy to digest.

29410 Northwestern Hwy., Southfield, Michigan
248.356.6600
HOURS:
Lunch Tuesday- Friday 11:30-4
Dinner Tuesday-Thursday 4-10
Dinner Friday 4-11
Dinner Saturday 5-11 | Closed Sunday & Monday | Directions