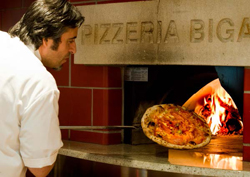 In addition to its pizza menu, the two-location, Neapolitan-style pizzeria offers a menu of rustic small plates — like risotto, meatballs and potato croquettes, salads, pastas, soups and a variety of wine, beer and liquor options.
We have a very aggressive craft cocktail program at Biga and we are currently engineering a bar kitchen for our program in Ann Arbor. We are always looking for interesting, esoteric wine varietals for our guests. We shop for small-batch, handcrafted products when we can get them, but the guiding principle is finding real value for our customers. We source as much as we can locally in all that we do. Our bar menu features more than two dozen beers on tap on a rotating basis, with a heavy emphasis on Michigan-made craft beers. The craft beer industry in Michigan is one of the best in the country, and I'm not just saying that — it's true. The future also holds a northern Michigan vineyard and distillery that we would like to be involved in.
Biga's food philosophy — clean!!! We use minimal ingredients to create simple, yet well-prepared dishes and pizza. There is no butter used anywhere in the Biga kitchen. Wherever we can, we use locally sourced, highquality, sustainable, organic ingredients. Sourcing locally is not just because we want to help the local economy, which we do. It also helps us keep things simple because we know where our food is coming from. We can build up trust with our growers and artisans, visit with them, and control costs and quality and freshness because we are not shipping in product from across the world.
This is the way the first real pizza was made in Italy centuries ago. We only use a natural starter (Biga) to make our dough. The yeast is actually wildly occurring in the air around us. It makes the dough lighter and offers a great chew and tart flavors not found in commercial yeast. It also has multiple beneficial health effects: It promotes good bacteria growth providing probiotic benefits, and because we don't use commercial yeast we don't need to add sugar to our dough.
Biga has a standard pizza and small plate menu, with daily specials. We make changes about once a year. We have an offsite commissary kitchen nearby that supplies multiple restaurants. Consistency is huge at any restaurant, and especially when you have multiple restaurants. At our commissary we can control quality and consistency much more effectively. It also eliminates redundancies and minimizes waste, which helps to control food costs.
We will continue to expand as long as it makes sense financially and we can control the quality of the food and service. We are currently opening our third location in Ann Arbor in August 2013. Additionally, we have our sights on multiple locations in other cities in Michigan.

29410 Northwestern Hwy., Southfield, Michigan
248.356.6600
HOURS:
Lunch Tuesday- Friday 11:30-4
Dinner Tuesday-Thursday 4-10
Dinner Friday 4-11
Dinner Saturday 5-11 | Closed Sunday & Monday | Directions